Tell us about your experiences with Narconon:

There are different ways to go about things, but to me when you break it down it's the basic fundamentals that, when you get in trouble, you did not apply in life – and that's why you end up in a place like this.
One is using your intention:  People don't use their intention enough.  If you put as much intention into staying sober as you did when you wanted to get high, well you can move mountains!  At Narconon you learn how to focus your intention on various areas in your life and resolve them.
Then there are the communication skills that you learn here – which are awesome!  I was a very angry person when I came in here.  It was like, if you looked at me the wrong way, I would want to get into a fight.  It would be like "You want to get knocked out? …because I'll do it for you right now!"  It was like I was looking for a fight, looking to hurt somebody.  I don't know why, but I wanted to inflict pain on people.  I guess it was because of my own stupidities and me hurting inside myself….
Every part of the program, I had to have it proven to me.  It had to be proven.  So when somebody would tell me something I would respond "No, I don't believe it."  A couple of days later I would see what would happen, and I saw over and over again that what I was told would happen, did happen.  It was like "Oh man, they're right again!"  The same thing would repeat again and again.
I learned so many things at Narconon that they don't teach in school.  I know about social and antisocial personalities.  I also actually know how to study now: You can put me in front of any book in the world and, even though I may have a rough time, I could read and understand it.  Before Narconon I couldn't even sit and look at a book.  Here I actually learned how to study!  When I went through school, I was like an idiot all the time, not knowing how to study.  I probably wouldn't be here right now, in my life, if it wasn't for what I learned at Narconon.  Honest to God.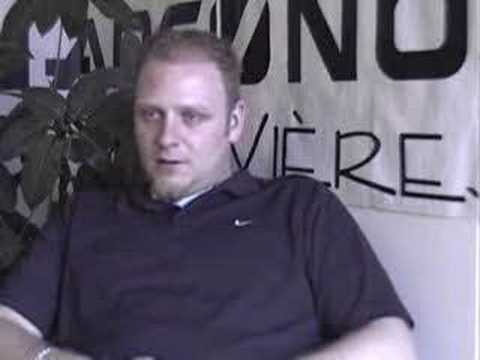 Will Opitz video interview about the Narconon Program and his Crystal Meth Addiction
What's it like being a Course Supervisor?
I am the main supervisor in the course room where we teach training routines in communication, etc.  I watch people that first come into that course room and like I was: They are angry and they hate life and they want to "kick your ass," that kind of thing.
I watch them start with the first training book and then go through the sauna and the rest of the program.  And when they go up there to get their graduation certificate, it's like you've taken a "creature" and turned it into a person that can have a conversation, that doesn't rely on drugs, that actually smiles at you and someone who holds their head up high – you know what I mean???
It's indescribable!  The hairs on my neck stand up when I talk about it.  I watch people change like that, from what they were to what they are now.
My greatest joy is simply the fact that I know that I am saving the lives of people that were in the same boat as me.  I may just be a small part of what they're doing with their life, but I'm helping them – just like when my Supervisors helped me.  You can't take that away from anybody (once they get it).
Do you find that your perspective on life is different because of your work here?
It's very interesting being on the other side of the fence, where I am.  You're on the inside of the glass looking outwards at those people and trying to help them.  You don't even need the gratitude or the praise for what you do.  You get it anyway!  When a graduate comes up to you, you can see it in them – they don't need to tell you.
Having said that, people come up to me all the time and give me hugs and say "thank you!" or "you saved my life," all this kind of stuff.
Instead of tearing things down, I'm building them up and for once in my life I'm actually doing something productive.  Anybody can sit around and be lazy and do drugs and not really contribute their whole life.  But you can choose to do something about it and take your destiny into your own hands, by working with the tools that you get here.
Narconon rebuilds the road for you; they help you, know what I mean?  As long as you got that shovel going, some staff member here has that shovel going too, in that dirt right next to you, on your road in life, to make it smooth.  It's great!
What would you say to someone who may be reading this article?
I would ask people to have an open mind because regardless of your outlook on life or what you believe in, we're basically all the same.  If you are an addict, then you need to do the Narconon program because the technology available here works.  I am a testament to that because this technology saved my life.  Because of people of goodwill who support Narconon, I was able to come here and now I have a great life.
There's a lot of negative stuff out there like other programs that don't work, where they call addiction a "disease" but one needs to look for themselves (and I'm not knocking any other program).
I never had a disease, I had a problem.  What do you do with a problem?  You fix it.  That's all – plain and simple.  You solve it, and that's what Narconon helps make it possible for you to do.  This is why I did the program; it is why I have a new existence and why I am helping others do the same.
Take it from me, this is an amazing program and I would recommend it to anybody.