No one can imagine the horrors of drug addiction, except those who are addicted.  It is a long road to walk to rid yourself of the addiction and take your life back from the horrors of such a life to a road of being well and taking charge of your own life.  Finally there is a rehab system that offers success and hope!
Narconon offers a drug free rehabilitation system that is effective.  Narconon is a social education model of rehabilitation.  Everyone who graduates from the Narconon program obtains a new orientation in life.  The graduates have a fresh start to life.
I recently had the opportunity to listen to a class of graduates, after they completed the program.  It was an opportunity to hear what their journey was from addiction to freedom. The testimonials were sincere, and emotional.  For me, it was heart warming to see how grateful these people were for the Narconon Program and what it did for them.
The graduates relate they have been given their lives back.  They recognize that drugs or alcohol were in control of their lives.  They can see that they were dying from their addictions.  Some of them now recognize what they were running away from and have conquered their fears effectively.  One lady said she realized that alcohol and drugs were her enemy.
One bright and shiny looking graduate related he had been doing drugs since he was 14 years old.  He now was 24 years old, addicted for ten years.  He came to Canada in hopes of finding a way to combat his addictions, but at the time he was not too hopeful.  After doing the program, he sees that the program gave him the power to choose what he wanted to do.  The power to choose his future.  The power to choose his destiny.  It gave him the power to choose to live.  He chooses to live.  He asked others to dedicate themselves to Narconon drug rehabilitation program  because it works.  He forwarns that you are only going to get out of it, what you put into it.
Another graduate said he realized that the program saved his life.  He arrived at Narconon, lost and confused. He was searching for a sense of reality at that time.  He had no appreciation for life.  He states that at that time he was a dead man walking, just going through actions and he had no real purpose.  Now at the other end of the program,   he really knows that this program is for real.  The program was amazing and he cannot begin  to explain how it saved his life.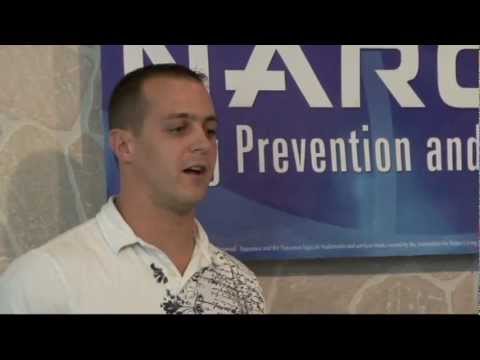 The sensational thing about these testimonials is the certainty that the days of "hell", as one graduate put it, are over for good.  Narconon drug rehabilitation gave them their lives back, because it works.  They now had the freedom to create the future that was ahead of them, ready to create in an addiction free way.